The task of the modern educator is not to cut down jungles, but to irrigate deserts.
C.S. Lewis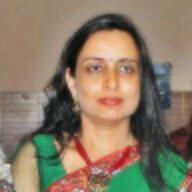 A vibrant and awakened society needs a dynamic, creative and forward looking education system.In my opinion, as an educator, it is important to think to what extent are we aware of the requirements, the feelings the visions and goals of the learners, whom we interact with. Every school wants to do the best to provide the best opportunities to its students.
When I was a student, I always felt that we stood up as a mark of respect but now as a teacher, I feel this as an exercise to show acceptance. By standing, up the children show that they are ready for learning from that particular teacher.
If children exercise self control and show readiness to learn, the atmosphere of the classroom becomes livelier and less time is wasted in controlling & managing the class.
Parents and teachers share equal responsibility towards grooming the children. Both require enormous patience, love & care, pruning & nurturing, scolding or punishment and stringent ways will only make them stubborn, sullen and aggressive.
Moreover, every child is influenced by the environment he/she lives in . If a child grows in a loving and caring atmosphere, s/he is more loving affectionate and polite and hostile environment makes him / her hostile, rude & aggressive.
It is duty of the parents and teachers to inculcate values in the children by being model. Parents should never criticize the teacher in front of the child.
Today, the parents duty does not end at home nor is a teacherís job merely imparting knowledge, but relentlessly and jointly working and preparing for the all round development of the children. So an enormous task is waiting us! This process is slow but sure if you are working on it honestly with total dedication and commitment.
Letís mould ourselves to gear up for moulding the young minds!
Mrs. Seema Phogat
(Principal)